Is it your birthday?
25th or 30th, a birthday in Puerto Rico is well-spent when you have a yacht charter booked for the day. You can exceed the number of days, and fun will multiply. And, if you ask how – imagine yourself sailing through the amazing coastline and sparkling waters with a glass of Champaign and many close friends.
Well, no doubt it is exciting to the core because Puerto Rico is a place like that.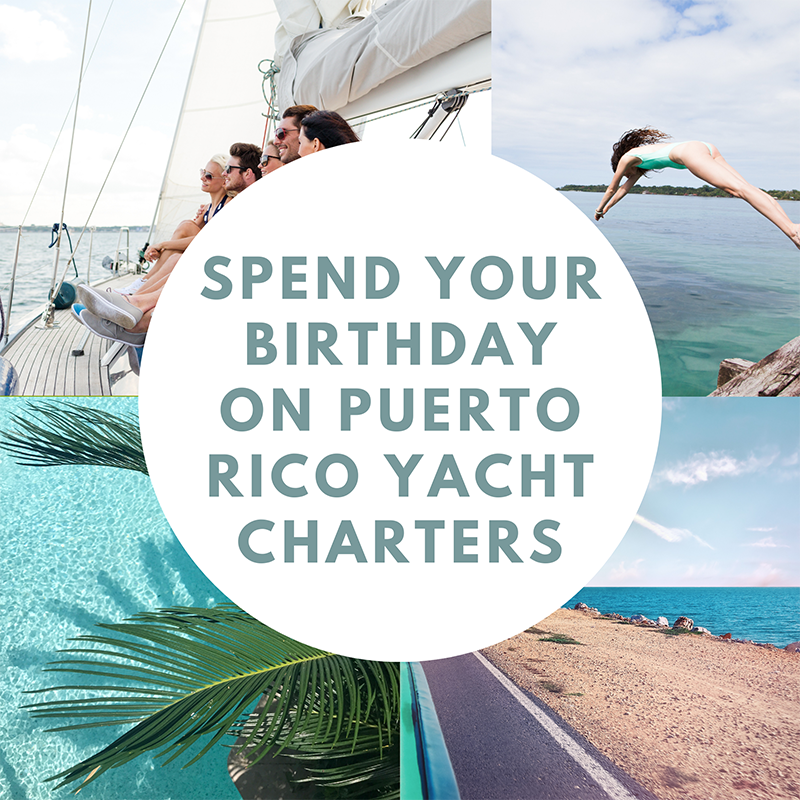 Puerto Rico as your birthday destination
Puerto Rico means Rich ports. Did you know this before? Well, not most people know this fact. This island is a dome for people seeking pleasure of all kinds – be it lazing around the beaches under palm trees or riding high tides to fulfill surfer-quest.
You can choose not to do certain things for a birthday weekend, and still, you will find your whole week too small for the activities and fun this island offers. Therefore, if you wish to live up the Caribbean daydreams up to the fullest, then come with plenty of time and a yacht charter Puerto Rico booked in advance.
Only a booked charter can take you to the unseen shores and the world's best stretches in Puerto Rico.
Chartering a yacht in Puerto Rico for your birthday
Birthdays are always auspicious, but birthdays like 25th or 30th should be well-spent like a king or queen. So, this birthday, you should give your old modes of celebration a complete twist and plan for Puerto Rico. While planning to visit the island, search for reliable services for Puerto Rico Yacht Charters.
As you will charter a yacht, you will relieve yourself of responsibilities like planning for food, decoration, stays, and other hassles. A booked charter will fulfill your need for food and beverages.
In fact, reliable and Avant-Garde companies offering Puerto Rico Yacht Rentals have well-trained and behaved captains. They guide you through various locations, their local beliefs, and behavioral standards so that you fit in perfectly.
If you book for a luxury boat rental in Puerto Rico, then you will get large lounging areas, live entertainment, open decks, delicious local food, and a lot of Puerto Rican music playing all night long.
Places to sail through with a yacht rental in Puerto Rico
You cannot dare to miss any site in Puerto Rico. However, there are a few places which you should visit while booking a yacht rental Puerto Rico.
The US and British Virgin Islands
While sailing in Puerto Rican waters can also enjoy the British Virgin Islands and the US Virgin Islands. As you have a yacht chartered for a particular time, you will find it easy and comfortable to explore hidden gems of the sea at your own pace. You can even stop to dive and fish for add-on experiences.
This place is best suitable for an intimate birthday celebration with close friends or even spouses. Adding to private experiences, Culebra has a peaceful environment to cherish when alone with someone close.
If you wish to live the dream of sunbathing over white sand under a palm tree, Palomino Island should be your first choice. Cool breezes coming from high rising turquoise water and shades of green trees will take you to the wonderland you deeply imagined in your thoughts.
Party starts in San Juan before anywhere in Puerto Rico. It is a prominent place known for its nightlife, theme parties, colorful festivals, food, services for Puerto Rico Boat Charters, and beaches.
If you are looking for an off-the-grid adventure birthday party, go for nothing else but Isla de Mona. It is the best place to reach with your rented yacht for the perfect experience of fishing, sailing, diving, camping, deep-sea fishing, and stargazing at night.
With all such options in your hand, would you choose to spend such a special day of life eating at a local food joint with plenty of unknown faces?
You will not!!
So, spend this birthday on an open deck of a chartered boat watching the horizon.
For reliable yacht charter services, place your query at https://www.yachtspuertoricocharters.com/contacts.php.